Tuning india ...A R Rahman




I am going to gush about A R Rahman in this article.
Not just because he is the most talented
music director and arranger on the block,
but
just simply
because he has done us all a phenomenal service
- he has proven that we can,
as a nation of music-loving, music-making people,
find a delicate balance.

This is not merely a balancing
of styles, tastes and preferences
but of perspectives.
He has made it possible for us
to have the music of our times presented in such
a well-organised, classy package.


No fuss or frills,
but well-conceived music delivered with aplomb.
It manages the quintessential amount of lyrical classicism
with absolutely edgy,
grip-the-corner-of-your-seat
contemporaneity.

Listening to his music makes me think of
yellow autos on New York streets,
and
skyscrapers reaching the sky in Mylapore all at once.
The beauty lies in the fact that Rahman
makes such zany collages seem plausible.


I am listening to the track
Kabhi Kabhi Aditi from Jaane Tu ...
on my personal stereo.
It is peppy and uplifting.
However, what I love about it, is its ability
to traverse across style and mindsets.
It has a moving bass
that can appeal to the younger audience,
a tidily crafted melodic line that can move
the more musically oriented and it has lyrics that are clean,
crisply rendered and quite adorable.

The overall effect,
including the detailing of the various nuances of
Rashid Ali's voice
(who, if he is reading this,
should know that he has found a very loyal fan)
in the repetitive alaaps in the end are precisely monitored.


I do not know
if everyone agrees with this observation,
but Rahman is not merely
a craftsman representing our spirit.
He is the spirit.

This is India now,
a microcosm of several styles
and cultures peppered with tradition
and bursting with confidence.

This is the India
that moves on horizontal time,
each individual leading multiple lives and careers.

It is the India
that believes in possibilities and alternatives,
and no longer rushes to linear
conclusions to every decision problem.
Each of these Indias find
an echo in Rahman's music score.

With their juxtapositions of different styles,
the mixtures of varied voices and the ever-present surprise
element in each song
(a guitar riff that sounds different,
a voice that sounds unique or an instrument
one does not associate with a certain mood),
Rahman's music truly accompanies the rhythms
of our extremely colourful modern-day reality.

When Rahman attempts a remix
(try Pon Magal Vandhal from Azhagiya Tamizh Magan),
it still exceeds expectations.
A classical infusion
(like, Narumugaye from Iruvar)
works equally well, and an all-out
'dance the night away'
number (like a Fanaa from Yuva)
proves difficult to dismiss easily.




When I saw the publicity material for
Bombay Dreams
near Columbus Circle in New York two years ago,
my heart gave a lurch.
On that unaccustomed earth,
with the wind swirling the temperature down
to sub zero levels,
I still felt my face grow warm watching
the Broadway crowd crowding up
to get tickets to watch an Indian production.
Having lived in the United States at a time that world attitude
towards all things Indian gradually went through a transformation
(from
"poor nation with potential"
to
"knowledge experts and entertainment gurus"),
I found Rahman's music to be
a fitting companion score to India's zeitgeist.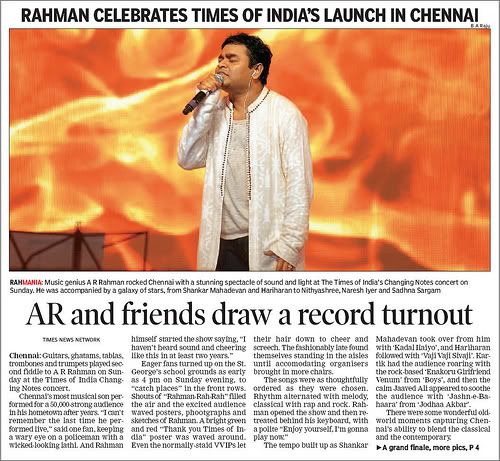 In my ongoing crusade to excite more and more
composers of original sound,
and the need for Indian musicians
(classical film, whatever)
to expose themselves to as many global influences
and thought processes as possible,
I find myself returning to Rahman's music
as perhaps the most important development
in Indian sound in a long time.




India is a truly global player and its music
should be elevated to the greatest heights possible.
With our own, extremely evolved classical grammar
and our natural tendency to adapt and assimilate
with the global community,
I think that the possibilities for Indian music
are as expansive as our collective imagination.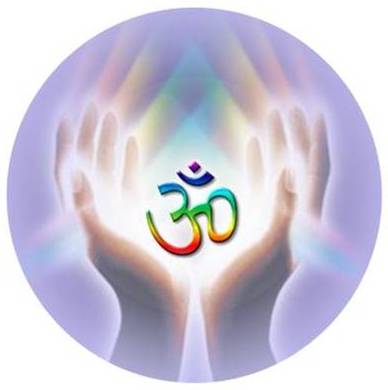 -~----------~----~----~----~------~----~------~--~---




--
--------
With love from
Anand.R.Joshi
Have a nice day
http://geniusanandjoshi.blogspot.com

This message has been posted on HMGoogleGroup by: "♥*♥I am Legend♥*♥"
Goto Message, Contact Author, Discuss...